When it comes to the best tongkat ali supplements, there is tons of information out there, but it is always difficult to figure out what information to trust. This is particularly the case for supplements that affect hormonal health, because there are a fair amount of fraudulent products out there that will make you believe that they are the ultimate libido and testosterone enhancer or will help you increase "size" if you catch our drift.
Here, we are going to look at one natural long-standing supplement that has been used for testosterone boosting and sexual enhancement that is been around quite some time, and also has a fair amount of studies, both in animals and humans, to back it up. Here's the lowdown on the best brands of Tongkat Ali, what they are, where you can find them, and our thoughts on each. This post does contain affiliate links and if you use them to purchase a product we will receive a commission. We appreciate your support!
2 Best Tongkat Ali Supplements in 2023
Double Wood Supplements Tongkat Ali Extract Review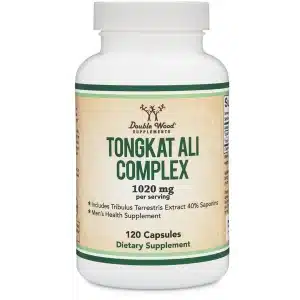 Our Thoughts
Pros:
Very affordable price
Great dosage breakdown of 500 mg of Tongkat Ali per capsule balancing effectiveness and allowing you to make your bottle last a long time
Includes tribulus terrestris as a key ingredient
Cons:
Not organic
Potency is not as high as LJ100 supplement discussed below
The Double Wood Supplements Tongkat Ali Extract is a combined tongkat ali extract supplement with the tribulus terrestris extract. Together, these extracts boost libido, lower cortisol, and also help to lower stress and anxiety. Tongkat ali also promotes an overall sense of wellbeing, and may even boost the gains you make from working out, improving your strength, and amplifying or increasing your lean muscle mass. Each Double Wood Supplements Tongkat Ali product bottle contains 120 Tongkat Ali Extract capsules, as you can see below.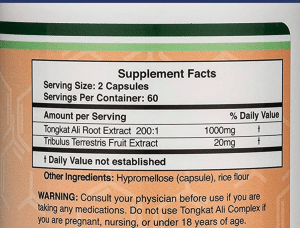 The recommended dosage is two per day, which is approximately 1020 mg in one serving. This also means each bottle will last about two months, however, it is recommended that you do not go over four pills a day, and at this rate, a bottle will last for one month. I personally have had great results with just taking 1 capsule per day in the morning, giving me a dose of 500 mg of Tongkat Ali on an empty stomach, but definitely experiment to see what works best for you. I am fairly healthy, exercise regularly, and have a clean diet, so that may help me get more of a benefit from a lower dose.
This Tongkat Ali Supplement contains Tongkat Ali Root Extract in a ratio of 200:1 and is approximately 1000mg in each serving. This is combined with Tribulus terrestris fruit extract at 20 mg per serving.
The supplement is suggested to be taken with food, as it can upset your stomach if taken on an empty stomach, although as I mentioned I've had no issues with it on an empty stomach. As on of the best best tongkat ali products it is also vegan-friendly, without any gelatin. Double Wood Supplements is located in Pennsylvania, and they manufacture this tongkat ali supplement entirely in the USA, with a GMO-friendly certificate and 100% money-back guarantee.
Pricing, Discounts, and More
Double Wood Supplements Tongkat Ali extract is priced nicely at $24.95 USD for a 120-capsule bottle.
If you sign up for a membership, you will save 10%, which brings the price even lower, down to an extremely affordable $22.46 each 30, 60, or 90 days, depending on your chosen frequency. There is no commitment required for subscription length, so you can easily cancel it, or change your frequency if you want another length. There is also a 20% discount available when you sign up for the Double Wood Supplements email newsletter opt-in.
The Bottom Line
Tongkat Ali extract by Double Wood Supplements is at the top of our list of best Tongkat Ali supplements on the market today because of their potent combo of pairing tongkat Ali extract with Tribulus terrestris extract. This is one of the best brands for tongkat ali, with a tongkat ali supplement that is reasonably priced, widely available, and highly reviewed, with thousands of product ratings on numerous websites. But let's take a look at another tongkat ali product from Double Wood that flys under the radar.
Double Wood Supplements LJ100 Tongkat Ali Supplement Review
Our Thoughts
Pros:
Great dosage breakdown of 100 mg of LJ Tongkat Ali with over 120 capsules per bottle. Meaning a bottle will last you a long time
High potency since formulation contains the most important bioactive compounds of Tongkat Ali
Cons:
Price is almost double typical Tongkat Ali extract
Not organic
Double Wood Supplements LJ100 tongkat ali supplements for men has one of the more impressive track records amongst all the tongkat ali brands. It is supported by twenty years of clinical data and clinical trials.
Double Wood Supplements LJ100 tongkat ali supplements process is called Physta, and is so unique it is been patented for employing a technology of freezing-drying and extraction with hot water. Double Wood's supplements, in turn, yield some of the highest, highest bioactive potencies of pure tongkat ali extracts on the market thanks to its unique extraction methods. This process yields excellent reaction times following consumption, while the total dose is low compared to the typical tongkat ali extract, as you can see below.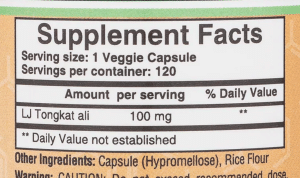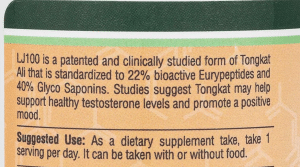 You can tell that the company is trying hard to make sure that it is providing the best possible product for Tongkat Ali, as supplements are not regulated by the FDA, so the fact that it has had 26 clinical trials since 2003 speaks volumes. For context, this is one of the highest total number of clinical trials worldwide in the field. As a result of all of this research and testing, the Double Wood Supplements LJ100 tongkat ali supplement delivers ten times more potency than the competition. The LJ100 tongkat ali capsules also promote general well-being, improve libido and sexual performance, and assist in maintaining healthy BMIs so you can stay a healthy weight.
In the gym, users have found increased anaerobic strength, accelerated growth of lean muscles, and enhanced general athletic strength. This leads to greater training gains, increased levels of free testosterone, and reduced fatigue, depression, and anxiety.
Pricing, Discounts, and More
This product is a bit pricier than the traditional tongkat ali extract, but it's due to the potency being much more refined. And if you were to take only 1 capsule per day at 120 capsules available per bottle, one bottle will last you quite a long time. There are also savings on tongkat ali capsules in multi-bottle sizes, as well as the subscription model, all around.
Our Conclusion
When people says that Tongkat Ali supplements are clinically proven to be one of the best in the world at increasing testosterone, libido, sexual desire, endurance, and energy, we look at their 20 years of clinical studies and are inclined to agree. Double Wood Supplements also has one of the more professional websites on this list, and although it does not dictate the products quality, it does demonstrate a much different level of professionalism and authority, which is why this brand is willing to invest this kind of resources in their products.
What is Tongkat Ali?
Tongkat Ali, also known as Eurycoma longifolia jack, is a plant which has been used for centuries as a natural additive for increasing male fertility and sexual health, and is still popular. The best Tongkat Ali supplements options have been shown to boost testosterone levels in men, as well as helping with erectile dysfunction, low libido, and other sexual problems. In Indonesia, tongkat ali is usually mixed in with coffee or tea in order to facilitate drinking as it has a bitter taste. In addition to sexual health, tongkat ali benefits are found to include reduced blood pressure, cholesterol, triglycerides, and a positive impact on other heart-related problems.
It is also said to have a variety of other health benefits, like helping to manage stress, depression, and anxiety. It may also help with fatigue and cognitive functions.
How to Buy High-Quality Tongkat Ali Supplements
Tongkat Ali supplements are designed to boost the levels of testosterone in men. However, they are not all created equally.
It is important to know what you should be looking for when purchasing these supplements. The first and most important thing to look for is the purity of tongkat ali supplements. This will make sure you are getting the correct ingredients at the correct dosages which will provide the desired results. One of the tricky parts about even considering this part is that it requires that you have faith in the brand, since you are at the relative mercy of the brand and their labeling.
Another thing that needs to be considered when buying tongkat ali supplements is how they are manufactured and from where they are coming from. There are a lot of supplements out there that say that they are made in Malaysia, but they are actually made in China, and they contain inferior ingredients, high concentrations of fillers and binding agents, that may lead to side effects like nausea, headache, stomach cramps, mood swings, dizziness, and more.
If you are interested in buying the best tongkat ali supplements, a few more crucial factors that should be considered are ingredient list and pricing. Consider the ingredients used in the supplement. Some companies use ingredients that are not of high-quality like others. A higher-quality product would probably contain ingredients like Malaysian tongkat ali leaves, natural extracts from other plants, and other chemicals that have no known negative effects. Check out how much a supplement costs when compared with other brands.
A higher price does not always equal higher quality, or vice versa. Product reviews from previous customers. Reviews can give you valuable insights into a product before you purchase, like how effective it is, and whether it has side effects you should consider before buying. A company making a high-quality tongkat ali supplement at an affordable price is likely to receive a favorable review from previous customers, since this is the reason why they are offering the product in the first place. It is also really important to think about the quality of a supplement before you purchase one.
There are a lot of different types of tongkat ali supplements on the market today, but they are not all created equally. Since naturally occurring supplements are not regulated by the FDA, there are plenty of reasons you should purchase tongkat ali supplements from trusted sources. The best brands of tongkat ali supplements will have standardised tongkat ali extracts that are highly concentrated with little or no side effects.
Tongkat ali pills are usually far cheaper when purchased from trusted sources than from other random sources. There is a good chance the best tongkat ali supplements are containing exactly what is written on the label. It is easier to build confidence when buying from a trusted source compared to buying from an unknown one. If you are buying Tonkotian Ali supplements from a trusted source, it is likely that they will come labeled with all of the information regarding how much Tonkotian Ali extract is in each pill, or how many pills are in the bottle, giving consumers a sense of what exactly they are getting for their money.
Checkout our blog to learn more: