Here is a quick list of our favorites, with more to come.
Torroshroom Mushroom Gummies
FreshCap Mushroom Gummies
60 gummies
2 per serving (2,508mg)
30 servings

60 gummies
2 per serving (500mg)
30 servings
Organic
Organic
Fruiting body from 25mg of 10:1 Extract
145mg Beta Glucan levels
This post contains affiliate links and I will be compensated if you make a purchase after clicking on my links. We and the vendors we highlight appreciate your support.
What Are Mushroom Gummies?
Gummies are a relatively new type of nutrition and supplement. A gummy mushroom extract is a chewable mushroom supplement containing vegan pectin (as opposed to non-vegan gelatin) and mushroom extracts, as well as organic flavor additives. Gummies are a delicious and easy way to consume mushrooms. Most gummies, like vitamins, come in fun fruity flavors (usually from citric acid). You'll love mushroom gummies if you enjoy raspberry flavor sweets or other fruit-flavored confections.
Most of the mushroom gummies on our list are 100% vegan, certified USDA organic, and gluten-free. They use pectin instead of gelatin, which is not only better for you, but also better for the environment overall.
Pectin is a popular ingredient in gummy candy since it helps to keep the flavors separate, making them more palatable. Pectin also holds up better in high heat, preventing the gummies from sticking together when shipping in the summer. We also utilize a dual-extraction process to ensure that our gummies have the greatest effective mushroom concentration possible.
We only use mushroom fruiting bodies rather than the much less potent mycelium on grain. We don't only want to create amazing sweets; we want to make sure they're actually nutritious and effective.
The Best Mushroom Gummies
Unfortunately, not all mushroom supplement manufacturers use the same level of care and attention when developing their products. When looking for mushroom gummies, it's vital to get the most mushroom strength for the lowest price—and you're buying from a company that uses environmentally responsible and ethical techniques. Why? You're safeguarding fungus' future by purchasing from reputable fungus producers.
What should you look for when purchasing delicious and efficient gummies?:
Certified USDA Organic
Uses Fruiting body and not mycelia
Sustainable and ethical grow & harvesting
3rd-party laboratory testing
Vegan and gluten-free
Dual extraction methods for highest potency
Mushroom Gummy Review
Below are the best mushroom gummies, with the first product being the only one that checks all of the previous criteria:
Torroshroom Mushroom Gummies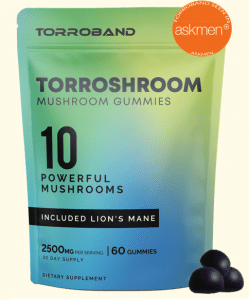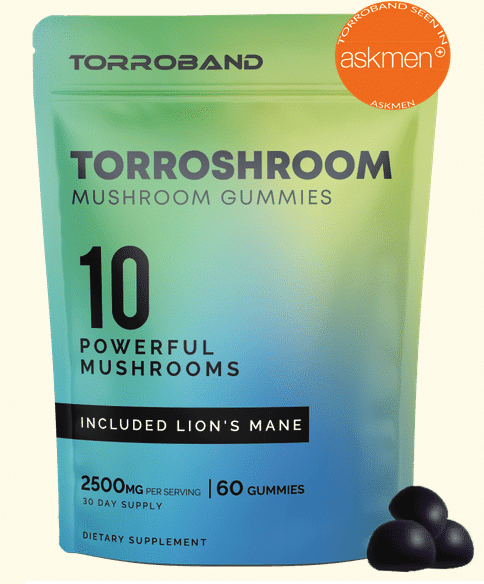 Torroshroom has taken mushroom gummies to a whole new level providing you with 2,500mg of functional mushrooms per serving. Including over 10 different mushrooms providing you with a wide variety of benefits from each specific species of mushroom including the following:
Pros:
10 mushrooms in 1 gummy
30 day supply
Gluten free, non-gmo, and vegan
Cons:
Not organic
Contains some glucose syrup
Mushroom Revival Mushroom Gummies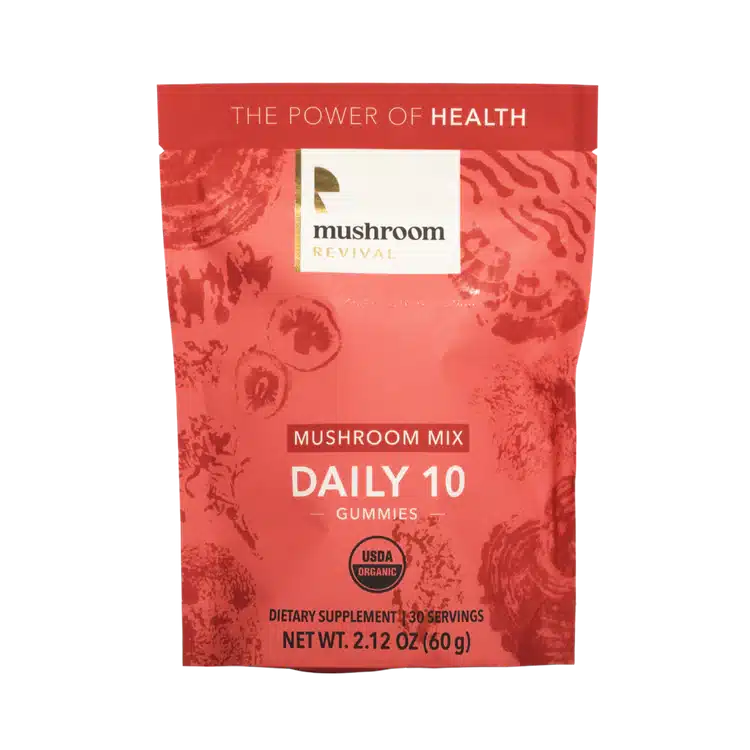 Even with their candy-like appearance, these mushroom gummies pack a punch of some of the most potent adaptogenic mushrooms available. Helping bulletproof your body and mind for anything that may come your way.
With their Daily 10 mushroom gummy product, you'll be tapping into ten unique functional mushrooms to help your body and mind function properly.
The Daily 10 is a USDA-certified organic and 100% vegan mushroom blend that includes several amazing adaptogenic chemicals and ten different mushroom species including: cordyceps, lion's mane, reishi, turkey tail, chaga, shiitake, tremella, meshima, maitake and more!
Mushroom revival also offers lion's mane mushroom gummies, reishi mushroom gummies, and cordyceps gummies that you can find here.
Pros:
Includes 10 different functional mushrooms
Verified 1.65% beta-glucan levels
USDA Certified Organic
100% Vegan
1,500 mg of mushrooms per serving (!!!)
Cons:
Only 30 servings per bag
Not keto-friendly
FreshCap Mushroom Gummies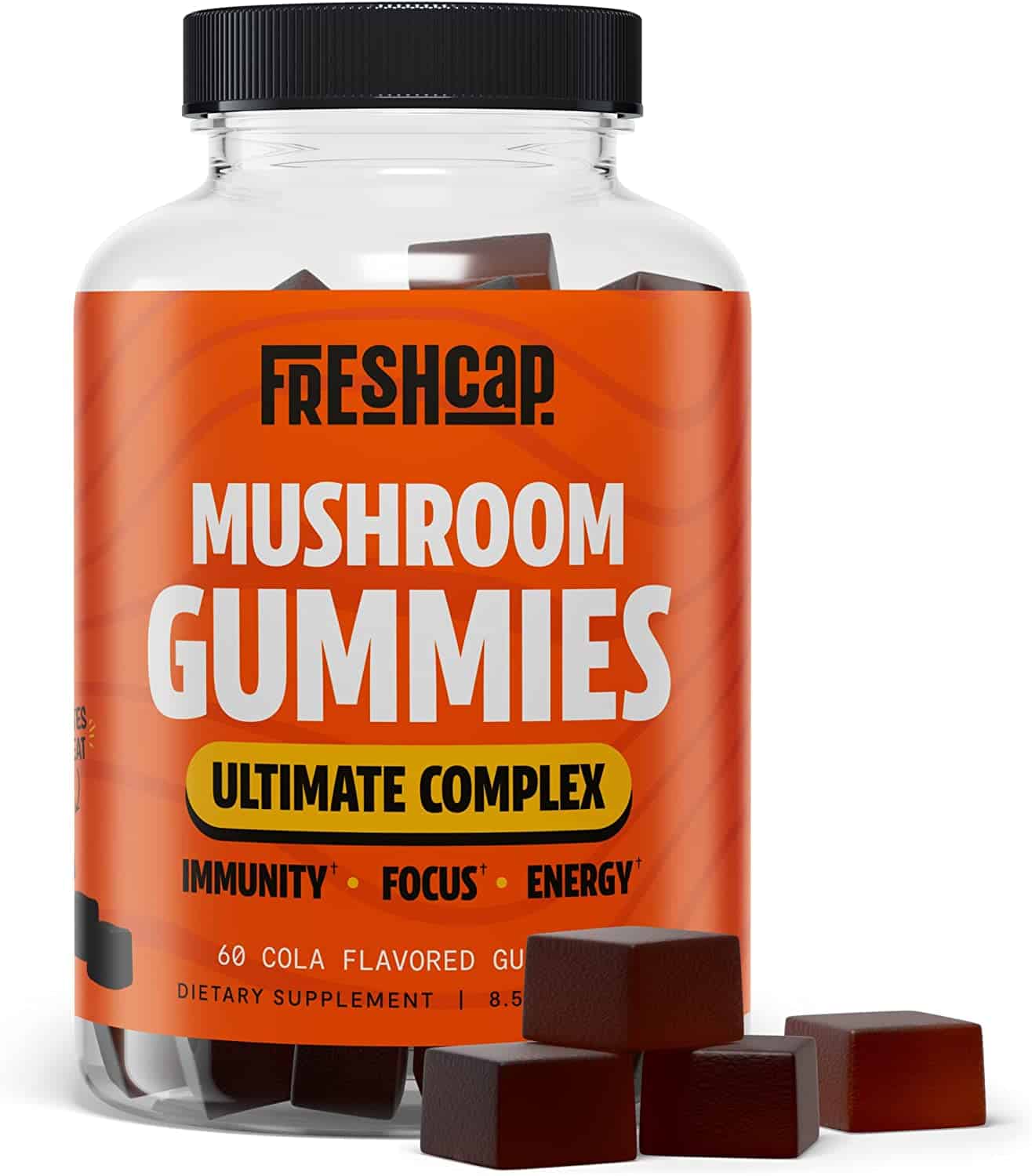 FreshCap mushroom gummies are a powerful, potent, and pure form of mushroom supplementation that help you get the benefits of the best functional mushrooms all in one yummy gummy. Their uniquely delicious cola-flavored gummies are jam-packed with six strong adaptogenic mushrooms to promote immunity, attention, and energy.
The gummies are packed with FreshCap's famous Ultimate Mushroom Complex 100% fruiting body blend. So they have all the benefits you know and love in a new gummy format that's designed to enjoy!
Pros:
500mg of mushrooms per serving
145mg of beta-glucan per serving
Non-GMO
100% Vegan
Gluten Free
Cons:
Are Mushroom Gummies Good For You?
Because functional mushrooms are used to make mushroom gummy supplements, they're high in nutrients. What exactly do functional mushrooms have to offer? Mushrooms include a wide range of nutrients, including phytonutrients and polyphenols. They also have various compounds that can boost energy, strengthen or improve the immune system function – and there are many more examples.
Medicinal or functional mushrooms include beta-D-glucans, which are connected to the immune system; triterpenoids, which act with beta-D-glucans to enhance immune function and inflammation; and ergosterol, an immunomodulator and antioxidant. The consumption of wild edible mushrooms has also been linked to improved energy levels and alleviating tiredness. And that's just a small taste of what functional mushrooms have to offer.
Mushrooms in gummy candies offer a wide range of health and wellness advantages based on the particular combination. Some claim to boost your immune system, providing it with a defensive or supportive boost. Other people may help you naturally increase energy on a daily basis. Other mushroom gummy formulations might support athletic recovery by supplying extra nutrients the body require after strenuous exercises.
While a mushroom gummy supplement may not give you all the vitamins you need in your daily diet, they may help you get more vitamins overall. They're essentially a supplement, adding useful features that can assist in little or substantial ways.
Do Mushroom Gummies Work?
Mushroom gummies definitely work, in my experience. The scientific evidence and various studies supporting the efficacy of the mushrooms included in each of the gummies we reviewed here speak for themselves.
While you may find mushroom capsule or powder products a better value due to the higher quantity of actually mushroom contents available in those products, the gummies are still a great way to get the benefits of these amazing fungi in a bit more convenient package.
Mushroom Gummies VS Mushroom Supplements
Mushrooms have been used in medicine for thousands of years, and gummies made from them are not the first type of fungus-based pills to hit the market. They're simply the newest version, joining a club that already includes mushroom capsules, powders, and other extract-based goods.
Gummies, on the other hand, are without a doubt the most simple and straightforward approach to date. They're easy to swallow, like capsules, yet more pleasant (which makes them kind of more fun to consume!).
The mushroom gummies don't have to be mixed into smoothies or drinks like powders. And being mess-free, they are a bit more convenient in that regard than an average supplement. Also considering you do not need water or anything to wash down a mushroom gummy, they can be taken anywhere at any time and are probably easier to take with you on a hike or camping trip, unlike a typical capsule product.
Conclusion
Overall we love mushroom gummies. They are a great way to incorporate funcitonal mushrooms into your diet in a much simpler and more convenient way if you're not looking to deal with a bunch of different powders or capsule products. Checkout more content and information about mushroom from Health by Mushrooms!