What is reishi mushroom powder? This is a question that many people are asking these days as functional mushrooms are becoming more and more popular
But first, we wanted to provide you with a sample of the best reishi mushroom powder products we've found on the market.
Real Mushrooms Reishi Powder
FreshCap Reishi Powder
1/2 teaspoon per serving (1,000mg)
45 servings

1 Scoop (1,000mg)
60 servings
Organic
Organic
Beta Glucan levels >15%
Beta Glucan levels 27%
Triterpenoid levels >4%
Triterpenoid levels 1.4%
10% discount with code: HealthbyMushrooms
10% discount with code "HEALTH10"
This post contains affiliate links and I will be compensated if you make a purchase after clicking on my links. We and the vendors we highlight appreciate your support.
What is Reishi Mushroom Powder?
Reishi mushroom powder is the dried and ground form of reishi mushroom that makes it much easier to use in smoothies and shakes. Some people prefer it over using capsule, teas, and tinctures. Reishi mushrooms are one of a number of medicinal mushrooms that have been used for hundreds of years, mostly in Asia, to cure infections. They've also been used to treat pulmonary illnesses and cancer in recent years. Medicinal mushrooms have been used as adjuncts to conventional cancer therapies in Japan and China for more than 30 years, with a long track record of safety when used alone or in tandem with chemotherapy.
What is Reishi mushroom powder good for?
Reishi mushroom powder is good for enhancing the immune system, improving sleep, reducing stress, and lessening the intensity of fatigue symptoms. It's also been used in cancer patients to help reduce tumor size and growth, but more studies need to be done to verify these claims.
How do you take Reishi Mushroom Powder?
The powder form of reishi mushroom is a great way to get the benefits of this medicinal mushroom. You can take the recommended dose of the reishi powder you decide to use, and simply mix it with water. Although it's going to be best mixed in with other ingredients to help improve the taste.
You can add it into your coffee, into a smoothie, add it to yogurt or hot cereal like oatmeal or muesli. You can honestly add it to any dish that you'd like.
Is Reishi Mushroom Powder Safe?
Overall, reishi mushroom extract powder appears to be safe when taken orally. Although it's always best to discuss possible side effects with your doctor if you are currently prescribed any medications that you think may react with reishi mushrooms.
Below are two of our favorite brands that make the highest quality reishi mushroom powder we've found on the market. They are great companies, and we hope you'll enjoy their products as much as we have at Health by Mushrooms.
Real Mushrooms Organic Reishi Mushroom Powder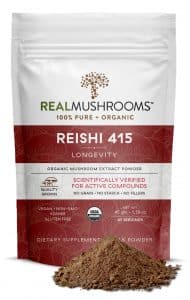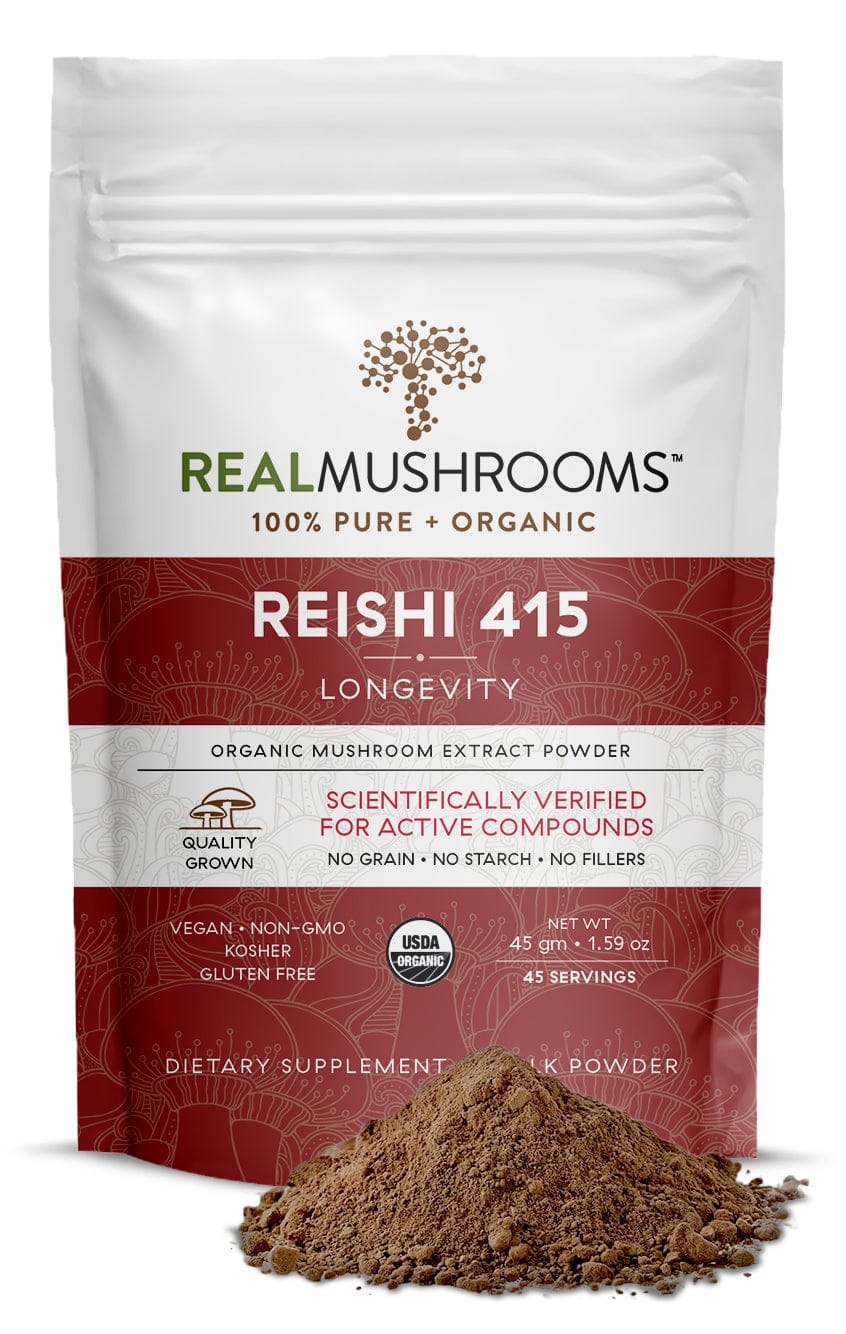 An excellent option for those looking for an organic and gluten-free mushroom powder. It's made with certified organic reishi mushrooms and contains no fillers or additives. In addition, it's are vegan-friendly and has a shelf life of 18 months.
Pros:
Made with 100% organic reishi powder

Dual extracted

large serving size

No grain fillers
Cons:
Does not have mycelium in the extract
Ingredients:
Reishi Extract 415 1000mg (1/2 teaspoon, 45 servings per bag)

>15% beta glucans

>4% triterpenoids
FreshCap Reishi Powder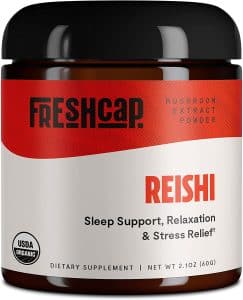 FreshCap's powder is dual extracted and tested for verified levels and the active compounds. Being 100% pure Reishi made from the whole mushroom fruiting body and cracked spore powder, it's one of the best reishi mushroom powders on the market.
Pros:
Organic extract

Contains beta glucans (7%) and triterpene (1.4%)

1 scoop = 1g | 60 servings per jar
Cons:
On the pricier side(you get what you pay for)
This is without a doubt the best Reishi mushroom powder available. It's as pure as it gets, free of grain and binders, and includes verified high amounts of immune-boosting beta-glucans and triterpenes. I take this one every morning to get me started. I also recommend it to everyone who asks.
Additional Resources: