If you are really steeped in the wellness scene, chances are that you have heard about the benefits of a functional mushroom beverage, maybe even tried a little bit of it yourself. Unlike the mushrooms you would toss into a salad, like oysters, cremini, and white buttons, this subset of mushrooms has powerful health benefits.
But unlike psilocybin mushrooms, they are not psychedelic. Also called adaptogenic mushrooms, or medicinal mushrooms, functional mushrooms may help your body cope with stress, especially when taken regularly over time.
The most common ones are Lions Mane, Chaga, Reishi, Turkey Tail, Cordyceps, and Shiitake. While all of these have adaptogenic properties to help your body cope with stress better, they do have a few differences amongst each other, making each of them unique.
Learn more: Mushroom benefits for hair
While functional mushrooms are often mentioned as a trend here in the United States, it is important to note that in many other cultures, they are not seen that way.
In Chinese and Ayurvedic medicine (a practice of holistic medicine originating from India), these mushrooms have been used for centuries in medicine.
We first discovered functional mushrooms way back in 2015, when adored indie brands such as Moon Juice and Sun Potion started including them in their product lines. Before that, the biggest name in functional mushrooms was Four Sigmatic.
Given how stressed out everybody seems, you would think that any product promising to combat stress would take off fast. But even when medicinal mushrooms started popping up in new ways, such as in beauty products and granola bars, the ingredient never gained much traction with mainstream people. But this year, a new grad class in medicinal mushroom drinks and powdered products is looking to change that.
Our Favorite Functional Mushroom Beverages
This combination of high-quality organic coffee and potent adaptogenic mushrooms will have you hitting the ground running every day. It has everything you love about coffee, plus Lion's Mane to support cognition, immune-boosting Chaga, and Ashwagandha to relax you. It's one of the best mushroom coffee products I've found.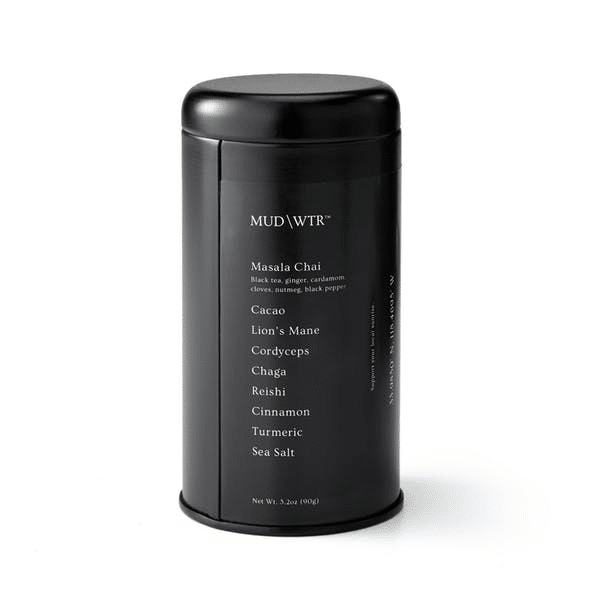 Get 20% Off Your First Subscription at MUD\WTR! Use Code MUDFAM20.
You've probably seen Mud/Wtr ads on TikTok by now, but don't pass them up too quickly: the California-based company produces some of the best mushroom coffee available.
Learn more: Mushroom coffee benefits