Lion's Mane Gummy Benefits
1. Lion's Mane Gummies Can Improve Mental Clarity
Lion's mane is notorious for helping stave off brain fog and improve mental clarity. Helping you get the most out of your day. Not to mention, lion's mane is connected with increased nerve-growth-factor levels which help improve nerve growth and production of neurons in the brain.
This post contains affiliate links and I will be compensated if you make a purchase after clicking on my links. We and the vendors we highlight appreciate your support.
2. Lion's Mane Gummies Help Improve Focus
As an adaptogen, lion's mane mushroom gummies help you deal with the daily stressors that life throws at you. Allowing you to maintain health stress levels and equilibrium that keeps you focused.
3. Lion's Mane Gummies Help Improve Memory
Lion's mane mushroom has also been shown to reduce the symptoms of memory loss
4. Lion's Mane Gummies Support Immune Health
Give yourself a natural boost to your immune health as lion's mane has been shown to support a health immune system.
Best Lion's Mane Mushroom Gummies Review
Mushroom Revival Lion's Mane Focus Gummies
As our favorite brand that provides a lion's mane gummy product, they do a great job combining the potency of lion's mane, with the utmost highest quality standards.
Mushroom Revival's product is USDA certified organic, a designation that is hard to find in this space as they are the first. Try this amazing product today if you want to power through your task list at work with laser-sharp focus, more creativity, and improved memory. We believe these are the best lion's mane functional mushroom gummies you can find.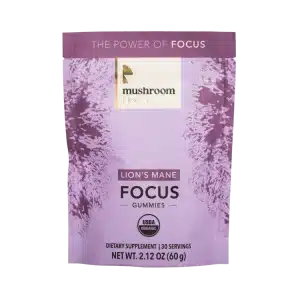 Pros:
USDA Organic
Made with Fruiting body
Serving size: 2 gummies, 30 servings per container
Vegan friendly
Equivalent to 1,360mg per serving
Cons:
Unknown beta-glucan levels (tests pending)
has trace amounts of vegetable oil
Additional Resources:
Where to buy lion's mane mushroom
Updated 10/12/2022