Maintaining intestinal health is one of the most important things that an individual can do for their own health. Heart health, energy production, improved mood, and immune support can all benefit from healthy guts. In this post we wanted to look at the best mushrooms for gut health.
While there are plenty of products on the market that help support a healthy digestive tract, reishi, which has been used in Eastern medicine for centuries, is an excellent option to naturally support your gut health. Mushroom species like Turkey Tail, Reishi, Lions Mane, and Chaga are all species that have gut health supporting benefits. From their immune-protection abilities to mood-supporting properties, these mushroom species are included in our four best medicinal mushrooms for gut health.
This post contains affiliate links and I will be compensated if you make a purchase after clicking on my links. We and the vendors we highlight appreciate your support.
What Causes Poor Gut Health?
The digestive tract is built up with hundreds of different species of bacteria that are helpful and essential for human body health. This bacteria lives within the guts microbiome. According to experts, gut microbiome can be defined as the bacteria, viruses, fungi, and other microscopic living things called germs, or germs, which are found in the a pocket in the large intestine called the cecum, which is called gut microbiome. These microbes aid in digestion, heart health, weight control, and brain health.
Learn more: Best mushroom protein powder
While gut microbiome function is important for intestinal health issues, poor digestive health can stem from many factors. Genetics, poor nutrition, food allergies, irregular sleeping patterns, and auto-immune and gastro-intestinal conditions all contribute to poor digestive health issues. While it can take accurate medical knowledge from a healthcare provider to address these conditions, there are natural ways to support overall gut health, and it can start with nutrient-dense, fiber-rich, protein-rich mushrooms.
How Functional Mushrooms Support Gut Health
Medicinal mushrooms have been used for thousands of years in Eastern medicine because of their powerful healing properties. These powerful mushrooms provide prebiotics, beta-glucans, and immune-supporting elements that are critical to good gut health. And since most of the immune system is located in the gastrointestinal system, medicinal mushrooms may have an important role to play in supporting that region of the body. In addition to their immune-supporting properties, mushrooms are low in calories yet high in protein, making them an excellent staple to include in any meal.
They also provide a lot of fiber, which is vital for digestive health. Consuming fiber may promote better intestinal functioning, blood sugar levels, hearty appetite, and may help to maintain cholesterol levels.
Best Functional Mushrooms for Gut Health
The bioactive compounds found in mushrooms are found to change gut microbiota, which can contribute to better functioning and general intestinal health and wellbeing. Turkey Tail contains potent polysaccharides and beta-glucans that aid in stimulating the immune system. As discussed earlier, a large part of the immune system relies on the gastrointestinal system for support. Daily consumption of a mushroom supplement like turkey tail may help to support overall immune health, while also providing support to beneficial gut bacteria needed for intestinal health.
Lion's Mane Mushroom for Gut Health
Lions mane, which is mostly known for its ability to stimulate neural growth factor (NGF) synthesis, is also a useful medicinal mushroom for gut health. Lions mane contains anti-inflammatory properties that can help stabilise mood, which may be significantly affected by the stresses the body experiences due to digestive complications. Additionally, studies found that extracts of lions mane may stop the growth of Helicobacter pylori (H. pylori), the bacterium which can invade your digestive tract.
Reishi Mushroom for Gut Health
Reishi has many attributes to it. This powerful medicinal mushroom acts as both an immune-boosting agent and immune-modulator — helping balance and de-regulate overactive immune systems. One study explored how the extract from this mushroom may aid intestinal inflammation and prevent fat tissue from developing, to help promote better health.
Learn more: Best mushroom for autoimmune disease
Chaga Mushroom For Gut Health
Supporting healthy gut bacteria, which are created by your gastrointestinal system, may lead to better function and keep out bad bacteria. Chaga contains a number of bioactive compounds that have important immune supporting properties. This medicinal mushroom is also an antioxidant powerhouse. Antioxidants are molecules that help fight off the free radicals in your body, and it contains anti-inflammatory properties that can aid your digestive tract. Your body will produce its own antioxidants, but supplementing with a natural ingredient like the chaga mushroom may help to keep the gut free of damage caused by free radicals and help promote the robust immune system needed for better health and wellbeing.
Organic Mushroom Powder Blends for Gut Health
The medicinal mushrooms can be ground to powder form for easy consumption. This method has gained popularity over the past few years, since the powdered mushrooms can easily be implemented in foods and drinks. And because the mushroom powder works best when taken consistently, it is even more convenient to incorporate it into your routine.
Real Mushrooms Organic Mushroom Powders
Real Mushrooms is a Canadian company that offers a wide variety of organic mushroom powders. All of their products are certified organic, non-GMO, and gluten-free. Their powders are also third-party lab tested for quality and purity. Click the banner to checkout their selection.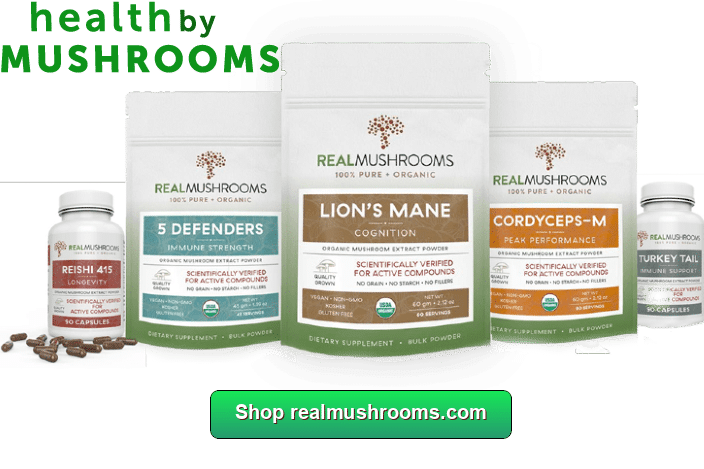 FreshCap Organic Mushroom Powder
FreshCap is an American company that specializes in organic mushroom powder supplements. Their powders are certified organic, non-GMO, and gluten-free. FreshCap products are also third-party lab tested for quality and purity. Click the banner to checkout their selection.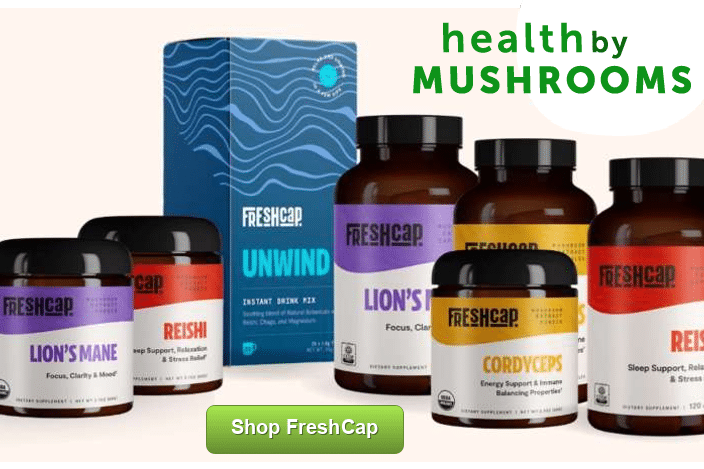 While the early adopters called these mushrooms medicine mushrooms, here at Health By Mushrooms, we like to think of these products as being called "functional," which is a term that is frequently used interchangeably today with "medicinal". There are functional mushroom supplements available as individual species as well as in fungi powder blends, designed to support the bodys natural responses to immune system, vitality, cognitive health, and energy.
We provide reviews of a wide variety of supplements containing different species of mushrooms, which provide prebiotic fiber, antioxidants, and polysaccharides, all essential to your overall gut health, which you can find by visiting a few links on our site navigation above. There are also blends of organic mushrooms powders (also available in capsule form), creating the possibility to include powerful mushroom nutrients into your routine.
Simply add a teaspoon of the powder into coffee, smoothie, soup, sauce, or another food or drink of choice each day to begin supporting gut health. Finding natural ways to support your gut health does not need to be complicated. Gut health is critical for your overall well-being, and the best medicinal mushrooms may provide the necessary support for you to continue on the path toward a healthier gut.