Mushrooms grow in forests, grasslands, and trees, and, even more surprising, they may even grow in your basement or coolest part of the house. We outlined one of the lion's mane mushroom grow kits we like along with some other mushroom species that are great to try. If you like to eat mushrooms (and you want a greater variety than the ones offered in the local stores), growing your own mushrooms might be well worth the effort. That's why we wanted to talk about our favorite, and arguably the best lion's mane mushroom grow kit from North Spore.
North Spore Lion's Mane Mushroom Grow Kit for $28.00
If you would like to grow another species of mushroom not easily found in grocery stores or in the wild, you should try growing lion's mane via a North Spore grow kit.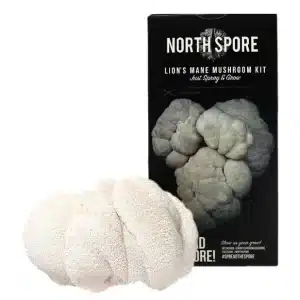 Click Here to shop North Spore's Selection of Grow Kits
These mushrooms are known medicinally, and they are meant not only to be highly nutritious, as well as delicious, they also look pretty cool, just like tiny pompoms! The mushrooms have a taste like lobster, and are fairly rare in the wild, usually protected depending on where you find them. Lion's mane is an excellent mushroom that can be grown directly on the counter.
Within one or two weeks, you will be ready to harvest your own home grown lion's mane mushroom, and have several harvests. They boast of 100% harvest rate, meaning. If you get a five-pound block, you are supposed to get five pounds of mushrooms.
Why You Should Grow Your Own
The typical grocery store usually has a single species of mushrooms. It does not matter that it has three different names, cremini, button, and portobello, it is all Agaricus bisporus, at three different stages of growth.
We like to grow, and we keep an array of different mushrooms available, because we have found growing mushrooms to be as much of a creativity as a science, you get a little bit of all parts of your brain working when you are growing mushrooms. Plus, when harvest comes around, you reap the rewards for your time and care.
We enjoy growing all kinds of foods, knowing how they are grown, what goes into them, caring about them, and just generally enjoying seeing them all the way to the end. Find resources to help people learn about growing edible mushrooms at home. It is an enjoyable and fun hobby that gives you really good rewards in the form of a healthy and fresh meal.
Mushrooms, especially, are really easy to grow at home. They are completely unlike plants, and they can even look like they are from another world. You just have to snip off the blocks and mist it 2 or 3 times per day; you can watch them grow right before your eyes.
Are Lion's Mane Mushroom Grow Kits Worth It?
Growing mushrooms does not take much in terms of supplies, so if you are curious about entering the world of growing edible mushrooms, consider trying out mushroom growing kits. They are generally a really nice, simple, and pretty inexpensive way to get started. You don't need any fancy gear once you get started, with a simple grow kit.
The kit gives you the opportunity to see what is involved with growing your fungus at home, and figure out whether this is a hobby you would like to pursue long-term. More professional mushroom-growing may take some trial and error, with a lot of factors playing a part to make sure success is achieved.
To jump straight into the fun, pick up a growing kit so you can enjoy some awesome-looking mushrooms without all of the commitment. This will pretty much guarantee you are going to grow mushrooms! Many kits are designed for beginners, and instructions are often very straightforward; you simply add boiling water and leave in the proper conditions.
Tips for growing mushrooms with kits
My recommendation is to keep the unit in a cool temperature, away from direct sunlight, in an area that gets good airflow. One of the more common problems we see is blocks placed directly in front of air conditioning or heating vents, which is too hot or cold, and will cause them to dry out.
I recommend using a kit with your mushrooms, with grain spawn mixed in their substrate, anywhere near where you live. If you live in California, but buy it from somebody living in Colorado, that is not too much of an issue. Overall, there really should not be any mushrooms to fail with these starter kits.
You can find our favorite capsules, powders, and tincture's on the following pages of our website and learn more about each individually:
Our Favorite Lion's Mane Supplements
Our Favorite Lion's Mane Powders
Our Favorite Lion's Mane Tinctures
Our Favorite Lion's Mane Gummies
Additional Resources:
Is Lion's Mane Mushroom Good for Migraine's
Lion's Mane Mushroom Look-alikes 
Updated 1/10/2023